Come See Our Best Brands!
At JBK Hardware, we offer a wide variety of paint, lawn and garden, tools, local niche services and virtually anything you'll ever need to fix, repair and maintain your home. And of course, Ace is most certainly the place with the helpful hardware folks™.
We work with world class brands to bring you products you'll trust and love for years to come. Rest assured, we have the products and quality that you're looking for to get the job done right.
Get what you need, when you need it.
From charcoal to pellet grill, we have all the top brands along with all of the top expertise available to help you make the right decision on which grill is right for your lifestyle.
The Supply Place at Ace has the brands you trust in the quantities you need conveniently stocked at your local Ace store so you can get the job done on-time and on-budget. 
We make it our business to help your business.
Think of The Supply Place at Ace as your local business resource conveniently located within your neighborhood Ace Hardware store. We are here to save you time and money when shopping for business supplies so you can focus on what's important — running your business.
When you join The Supply Place at Ace, you can also access your invoices and statements online! Join today!
Services to Make Your Life Easier.
Beyond our normal selection of tools and equipment, our location is prepared to help you in a number of ways. Whether we're refilling your propane tanks, or looking for permits, Price & Gannon is here to serve you. We are "Ace – The Helpful Place" after all. Below are some the everyday services we offer.
Assembly
Delivery
Glass Cutting
Hunting/Fishing Licenses
Key Cutting
Auto Key Fobs and Remotes
Propane Refills
Rechargeable Battery Recycling
Blade Sharpening
Gift Cards
Screen and Glass Repair
Landfill Permits
Ramp Permits
Paint Color Matching
Pool Water Testing
Much More…
Looking For More?
It Doesn't End In-Store.
While we pride ourselves on having an incredibly robust selection in-store, the fact of the matter is there are more than a few items we just can't fit on our shelves. You can shop online for access to our complete product catalog!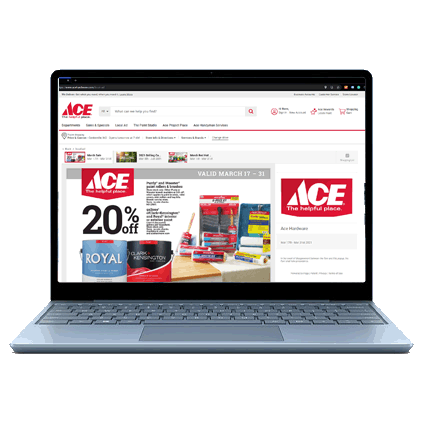 Contact Us
We love hearing from our customers! Fill out the form below with any questions or concerns you may have, and we'll direct it to the right people for you!
Store Hours
Mon - Fri:  7:00 AM - 7:00 PM
Saturday:  7:00 AM - 7:00 PM
Sunday:     8:00 AM - 5:00 PM
Holiday Hours
Easter Sunday:  Closed
Memorial Day: 7:00AM - 5:00PM
4th of July: 7:00AM - 4:00PM
Labor Day: 7:00AM - 3:00PM
Thanksgiving Day:  Closed
Christmas Day: Closed
Christmas Eve:  7:00AM - 4:00PM
New Year's Eve: 7:00AM - 5:00PM
New Year's Day: 10:00AM - 3:00PM
1Available at participating Ace locations. Some restrictions apply. Item(s) must be in-stock and order placed at least 2 hours before store closing at the participating Ace store selected. See details.
2Participation and delivery area vary by store. Same-day delivery is available on in-stock orders placed by noon or on orders placed at least two hours before store closing time, whichever is earlier.
3Bonus Coupon will be available the day after an Ace Rewards member downloads the mobile app. Exclusions apply. Visit the mobile app for details.